PCB Testing at EIT
EIT offers flying probe in-circuit assembly verification using the Seica Pilot system. The Pilot is programmed directly from CAD data and can perform shorts and opens checks, RCL component value tests, diode and LED orientation, transistor orientation and gain, and IC orientation and opens testing using a variety of techniques. The Pilot system is capable of accessing targets as small as 0.020" and only 0.016" apart.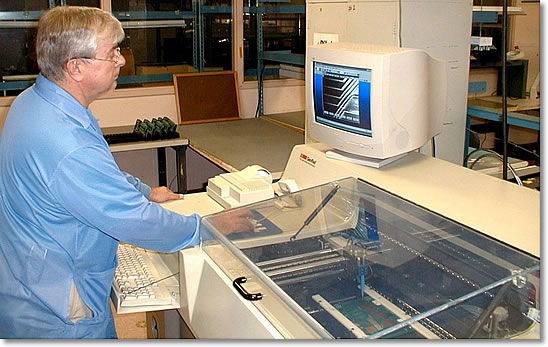 Programming is done within our own Test Engineering Department, which has over 10 years experience with the Pilot system. Working directly from CAD and BOM data, test programs can be generated very quickly. By its very nature, no fixture is required, making the flying probe an ideal tool for prototype, pre-production, and low to medium volume production.
Our Test Engineering group will also work together with you in developing and implementing functional testing at the board level as well as final assembly. A dedicated test lab with power supplies and measurement equipment is at your disposal.
Programmable devices are easily handled in-house using our BP Microsystems Device Programmer.