Turnkey Solutions
Think of us as a seamless extension of your engineering and manufacturing departments.
Flexibility
EIT is highly flexible in meeting our customers' needs. This flexibility is enhanced by the company's
Strict AS9100 and IPC-A- 610 / J-STD-001 quality assurance procedures.
Ability to run Leaded, RoHS, & RMA processes as required.
State-of-the-art facility with expansion capability.
State-of-the-art equipment.
Assembly teams are formed based on the complexity/requirements of each customer's product.
Employee training and continuing education programs
Built to Print
If you have existing prints or supply us with components, we can take over from there, offering you ISO certified quality, timely delivery, and unbeatable pricing.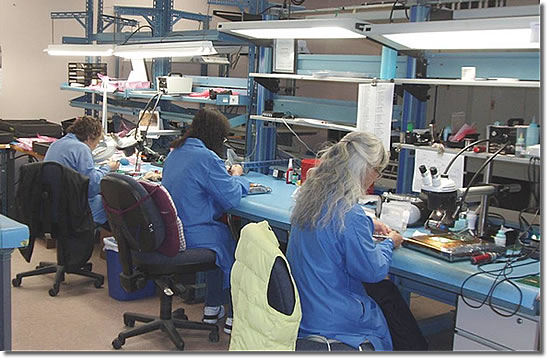 Layout and Documentation
EIT has extensive experience in PC board layout and documentation involving the following technologies:
Surface Mount (SMT)
Through-Hole
Mixed Technologies
Single, Double, Multi Layer
Rigid, Flex, Rigid-Flex
Leaded and/or Lead-free
PCB Design – We interface with your design engineering team, reviewing or developing schematics, netlists, parts lists, board outlines, part data sheets, layer structure, etc.
Placement Prints – EIT can create placement prints that help you identify the parts you use, their placement, as well as provide an optimally functioning circuit.
Final Prints – Allow you to perform a final check that the circuits are properly routed.
Gerber and Drill Files – EIT can produce Gerber and NC drill files, as well as hard copies of FAB and assembly drawings and final photo-plot films.
Your Gerber files, BOMs, and assembly drawings are then utilized to produce SMD machine insertion and Optical Inspection (AOI) programs that are used to build your boards.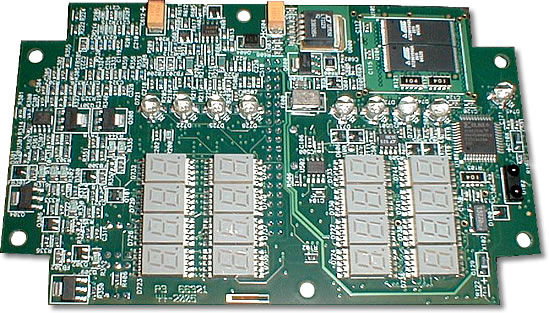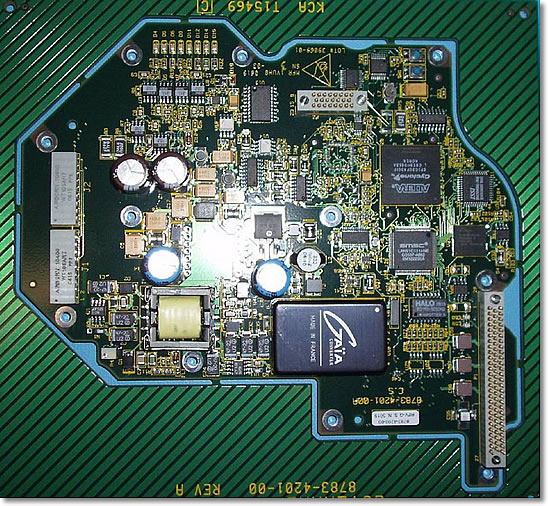 Prototype Development
EIT utilizes its experience to deliver prototypes and small production test runs quickly and within budget. We build your prototype boards on the same manufacturing lines and with the same people as your production runs.
Surface Mount Assembly
EIT routinely handles complex high-density boards containing fine pitch and high pin count BGAs. EIT has the latest surface mount equipment, including:
LSM Laser Sectioning Microscope – Allows verification of solder paste height and alignment.
MPM Screen Printers – Ultra high accuracy of pasting boards containing fine pitch, and high pin count BGAs, resulting in high quality ultra low defect reflowed printed circuit boards. We are also routinely paste mixed technology boards combining paste and epoxy printing.
Pick and Place Systems – EIT has three MYDATA pick and place systems. These units offer unsurpassed versatility in component placement, with the ability to place reels, tubes, trays, strips and loose SMT items. The components are placed utilizing the vision system to accurately place components. In addition the MYDATA systems use electronic testing to verify the component values. All machines are tied to a central database for easy program retrieval and backup.
Heller Reflow Ovens – EIT has two reflow ovens that contain 5 and 8 heating zones. The 8 zone oven is used for larger boards and boards that are lead free. The temperature profiles for reflowing the printed circuit boards are stored in the ovens for easy retrieval by the machine operators. These temperature profiles are generated by utilizing an ECD MOLE unit.
ECD Mole System – This computer controlled system generates a temperature profile that is tailored exactly to the printed circuit board. First, the MOLE is wired to a sample board. Our experienced staff picks a profile from a similar board and enters it into the ECD system. The MOLE and sample board are then run thru the reflow oven. At the end of the run the ECD system generates a new profile that is exactly tailored the board. This allows EIT to reflow small, large, multilayer, mixed technology, leaded, and unleaded boards with high quality.
Wave Solder – EIT's Electrovert Wave Solder Machine is used to automatically solder boards that have any thru-hole components. This removes much of the hand assembly soldering and produces a much higher quality soldered printed circuit board.
Westclean – EIT's in-line closed system for cleaning assembled printed circuit boards. The system incorporates two washes, two rinses and dual air knives for drying. Only deionized water is used. For boards requiring an RMA process, a separate washer is used that contains a KYZEN suponifier, prior to washing in the in-line cleaner.
Ionigraph – To verify the cleanliness of the printed circuit boards after washing, an ionograph is used to sample the PCBs for any possible contamination.
Automated Optical Inspection – EIT's AOI machine is used to check assembled printed circuit boards after reflow. The AOI programs are generated by our engineering staff using Gerber data and are verified by QC. The computer controlled AOI machine looks at each part and checks for any part that is missing, wrong, or reversed. Any defects are immediately repaired and entered into our central database for analysis by QA.